Recently, we just went through the entire series of Friends from Season 1 Episode 1 to Season 10 Episode 24 and that's why I am still in a Friends haze. Be warned that you may see at least a post or two more based on this historic sitcom.
One common comedic device that I noticed throughout the series was the use of serious situations to induce hilarity in the current situation. I have noted a few, but if I have missed any, do feel free to share them here.
Doctor/Surgeon Reporting Patient's Situation to the Family
A very intense situation usually causing tension in the audience, this scene comes up in the epi
sode "The One with Ross's New Girlfriend".  After Phoebe messes up Monica's hairstyle because of mishearing Demi Moore as Dudley Moore, she calms Monica down to make up for it. After this, she reports to Rachel, Joey and Ross on Monica's situation forbidding the former two from visiting her because they have too good hair, but allows Ross to visit her subtly implying Ross's bad haircut.
Note: Ross's bad haircut has been a butt of many jokes throughout the series.
Watch the scene here.
Couple Fights
A very common device used in Friends, these scenes usually take place between Joey and Chandler. Some instances are:
Joey and Chandler become pet-parents to Chick and Duck, and Chandler takes a day off from work to look after them. However, Joey's erratic work life causes a fight between them, making them look like new parents of a baby. Watch scene here.
Joey is starting to earn more through his acting role in a daily soap. But at the same time, he and Chandler face friction due to difference in lifestyles. That's when Joey starts looking for an alternative place to live and checks out an apartment. The scene that ensues between them is as if a couple would be discussing an extramarital affair. Watch the scene here.
Because of living with Janine, Joey picks up a few feminine traits of arguing and things turn hilarious when Chandler points them out to him. Watch a scene here.
However, this comedic device is not restricted to our bromance buddies.
We also see a similar scene between Monica and Rachel, when Rachel finds out that Monica has been shopping and hanging out with Ross's girlfriend, Julie.
Honorable Mention: The Best Nap Ever by Joey and Ross.
Law Enforcement Officer/Fire Investigator Explains a Mishap to Victims
This scene happens when Phoebe's dollhouse catches fire due to the incense lit in it, and Ross and Monica try to save it. However, some of the dolls get burnt by the time Phoebe reaches the "crime scene" and she is devastated to see the carnage. Watch the scene enfold here.
Parents Reminiscing About How Kids Grow Up
Except here, it is the friends who have received a new point of view of their parents as normal human beings who suffer and face problems like themselves. That's when they have this rather childish discussion on "why can't parents stay parents? why do they have to become people?"
Parents Disciplining the Teenagers
When Joey finds out about his father's affair, he is disturbed. So when his father and the girlfriend decide to move out to a hotel room. but Joey wants to keep them apart, at least till he speaks to his mother about this revelation.
Public Display of Affection
Let's admit: irrespective of Joey's lack of knowledge in other areas, there is nobody else who comes close him when it comes to the art of seduction. That is why whenever any of them have a problem in their love lives, they consult Joey and he offers advice which oftens turns out hilariously at times.
For example, the scene where Joey teaches Ross how to dirty talk with his girlfriend. While otherwise, the situation would be sensuous, it has hilarious results when Chandler overhears this conversation and is amused.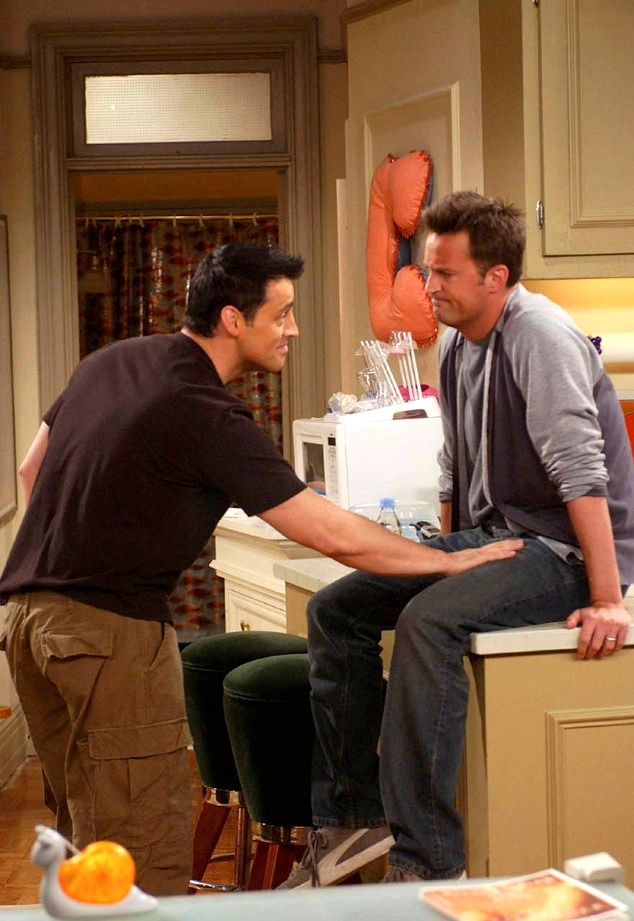 Then there is the scene where Joey demonstrates how he plans to seduce Rachel, except he demonstrates it on Chandler.
Quiz Shows
There are two amazing scenes with quiz shows that have some hilarious results:
The famous Apartment Quiz designed by Ross as a wager between Monica-Rachel and Chandler-Joey.
Bamboozled! Quiz practised by Joey with his friends Chandler and Ross, as the girls have a bridal shower for Phoebe next door.
Did I miss anything? Do drop in a comment!